Unusual Mid Century Modern Art Pottery Coil Flower Vase Signed Dan Gehan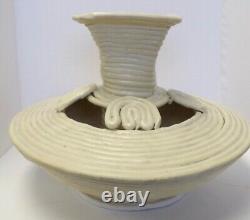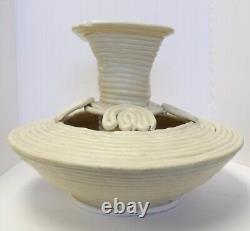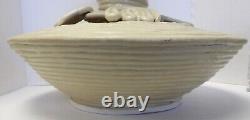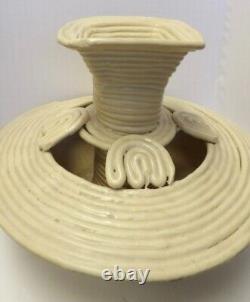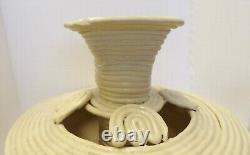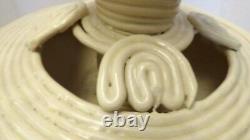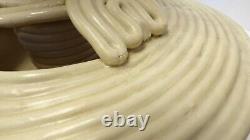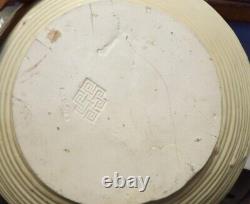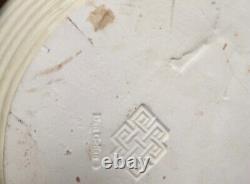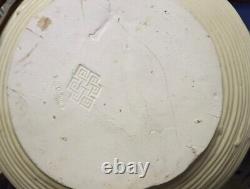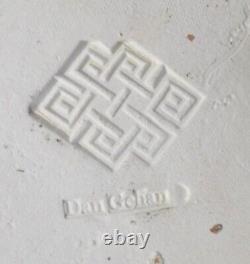 Unusual mid century modern coil design made by Dan Gehan of Ackworth, NH and Woolwich, Maine. The vase is oversized and displays a receptacle that can be used as a flower frog for additional flowers. In very good to excellent condition for its age.
Signed on the underside Dan Gehan with backstamp. Stands approximately 9" tall x 13" in diameter at mid point x 6 1/4" diameter at squared top x 6 1/4" in diameter at the base. Daniel Gehan Woolwich, Maine - Artist-Sculpture-Potter-known for his "Coil Pottery". Some of Dan's works are in collections as far away as Japan.
Later in he career he focused and specialized in sculpting "Coil Pottery"/ Dan and his wife Mary Ann were founding investors in "Studio Potter" magazine in the 1970's. They also had a company called "Peaches & Co0" where they made pottery at Mahopac, NY. Dan is listed with New Hampshire Historical Society, know for salt glaze stoneware and at one point made studio potter at South Acworth, NY.