TECO style pottery matte green arts and crafts vase, Zanesville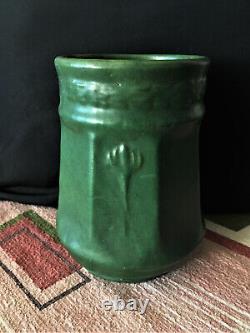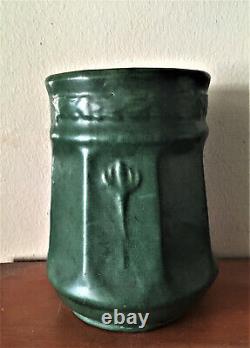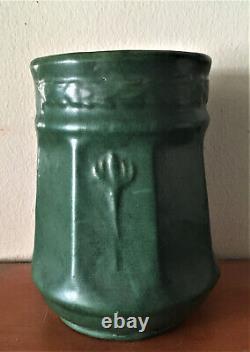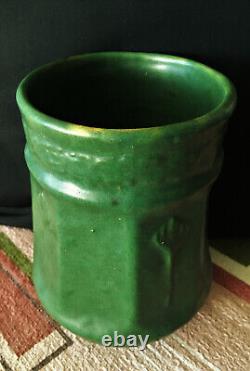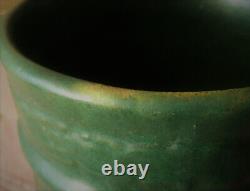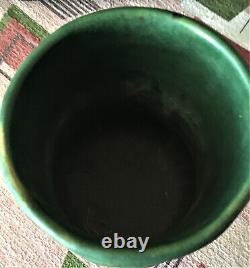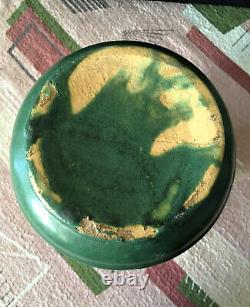 This rare Zanesville pottery vase has a very unusual shape. 7 1/4 inches tall, 4 1/2 inches in diameter at the top, approximately 5 1/2 inches at its widest point and 4 inches in diameter at the base, a perfect size for shelf or table top. The body of the vase is composed of 10 facets, with every other facet decorated with a molded abstract flower.
There is also a ring of flowers around the top rim of the vase, which are not as distinct. The matte glaze is a rich dark green, evenly applied, no drips, and very attractive.
The bottom of the pot is the typical Zanesville yellow clay, with some stray green glaze. There is a tiny area of wear to the glaze on the lip of the vase. The inside is clean and lightly discolored.
This is an iconic and hard-to-find example of the best of Arts and Crafts design. It will be a jewel in your collection and bring lots of pleasure to anyone who appreciates this style.