Roseville Arts & Crafts Pottery Zanesville, Ohio, Turquoise Matte Vase ca. 1915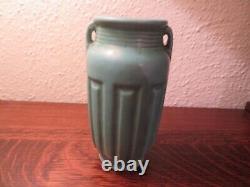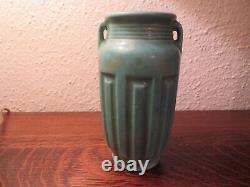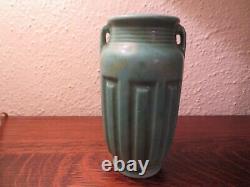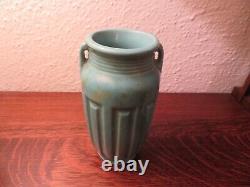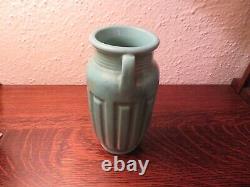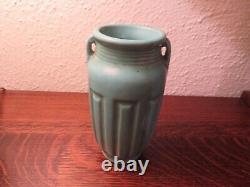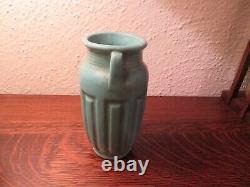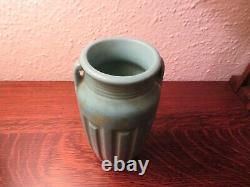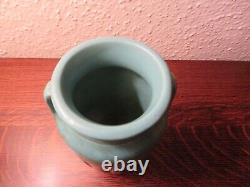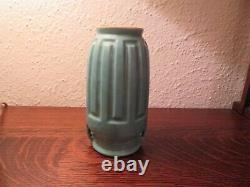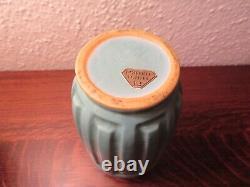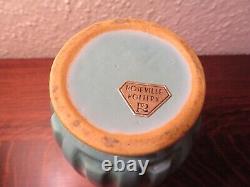 Roseville Arts & Crafts Pottery: Zanesville, Ohio, Turquoise Matte Vase ca. The early colonial settlement of what is now the State of Ohio began with the establishment in 1788 of Marietta, located at the confluence of the Ohio and Muskingum Rivers, in what was then the Northwest Territory. During the early years of the state's development, abundant clay deposits were discovered along the Ohio River and its tributaries in eastern and southern Ohio, giving rise to the development of small-scale stoneware potteries. To meet the utilitarian demands of a growing population. These potteries later took advantage of the state's excellent location and the various transport routes-the railroads, the canals, the Great Lakes, and the rivers-to export to growing urban centers.
Larger-scale pottery operations took root in the southeastern part of the state, around the Akron area, and in Cincinnati, all areas where clay and water access were abundant. Century, Zanesville, Ohio had emerged as a major center for pottery production, earning it the name Clay City. Zanesville, located at the confluence of the Muskingum and Licking Rivers, was named after Ebenezer Zane, who blazed the Zane Trace, a pioneer trail from Wheeling, Virginia (now West Virginia) to Maysville, Kentucky. His son-in-law John McIntire platted the town, established an inn and ferry in 1799, and renamed the town Zanesville in 1801.
During its heyday, Ohio pottery establishments numbered 30, and a number of the most important ones, including Roseville, Weller, Peters and Reed, Brush McCoy, and J. Owens were located in or near Zanesville. There was a lot of both competition and interaction among the local potteries, with artists and craftsmen moving from one to the other and companies acquiring one another, leading to many similarities in designs and production techniques.
While these companies flourished for some 60 years, beginning in the late 19. Century, virtually all were out of business by the 1950s. Along with Weller, also located in Zanesville, and Rookwood Pottery in Cincinnati, Roseville was one of the three major art potteries located in Ohio around the turn of the 20th century. Roseville pottery was incorporated in 1892.
With George Young, a former Roseville salesman, as secretary and general manager. Under the direction of Young, who had acquired a controlling interest in the company by 1896, the Roseville company had great success producing. Stoneware flower pots and other practical household items. In 1900 Young hired Ross C.
Purdy to create the company's first art pottery line, named Rozane (a contraction of "Roseville" and "Zanesville"). The Rozane line was designed to compete against Rookwood Pottery's Standard Glaze, Owens Pottery's Utopian, and Weller Pottery's Louwelsa art lines. By 1901, the company owned and operated four plants and employed 325 people.
The early artistic leadership for Roseville was provided by talent imported from outside the United States. In 1902, Rhead came to Ohio, reportedly initially to the Vance and Avon potteries in Tiltonsville, before moving to Zanesville to work for Roseville's rival Weller. By 1904, he had moved to Roseville, where he served as Artistic Director from 1904 to 1908.
Frederick Rhead brought his brother Harry to join him at Weller, and Harry subsequently succeeded him as Artistic Director at Roseville, where he served in that role from 1908 to 1918. While at Roseville, Frederick Rhead was responsible for introducing the highly regarded Della Robbia line in 1906. He also designed or oversaw other lines, including Donatello, Juvenile and Mostique.
His brother Harry was responsible for developing a number of lines lines, of which Pauleo and Aztec are perhaps best known. In addition to the Rhead brothers, Roseville also employed the Japanese artists Gazo Fujiyama in the company's early years; Woodland (1905) and Foudji (1906) were his designs.
Christian Nielsen, a native of Denmark and graduate of the Royal Academy of Art in Copenhagen, created in 1904 the Rozane Egypto line, modeled after examples of ancient Egyptian pottery and glazed in an old matte green. During this early period, Roseville already made the transition from hand-crafted to industrial production methods.
By 1908, all handcrafting was abandoned except for Roseville's prestigious line Rozane Royal. Roseville was also the first pottery in Ohio to install a tunnel kiln, which increased its production capacity. In 1917, the artistic leadership passed from imported to home-grown talent when Frank Ferrell became the Roseville's Art Director. It is believed that he began working at Weller Pottery in 1894 at the age of 16, where he stayed until 1905.
By 1918, he had moved from Peters and Reed to Roseville Pottery, where he would remain as Art Director for the rest of his career. From 1918 until 1952, every line of pottery produced by Roseville was designed by Frank Ferrell, even though his signature is rarely seen.
Frank Ferrell died in Zanesville at the age of 83 on August 10, 1961, leaving behind a legacy of 60 years of work in his hometown ceramics industry. Most Roseville Pottery collectors define "middle period" Roseville Pottery as the lines that were produced between 1920 and 1938. This time line for middle period Roseville patterns covers the years of the company presidencies of Russell Young and Anna Young and covers the first two decades of Frank Ferrell's tenure as Art. While the Roseville Pottery Company had been quite successful under the direction of Frederick and Harry Rhead, winning many international awards, their styles had tended toward European tastes. Roseville's Rozane Mongol, a high-gloss oxblood red line, won first prize at the 1904 St.
Upon taking the artistic leadership of the company, Frank Ferrell set to work immediately, introducing new lines, first inspired by the Arts and Crafts movement and then Art Deco. His Futura line, introduced in 1928, is considered by many to be one of the best examples of American art pottery in the Art Deco style. The Depression Years of the early 1930s, Frank Ferrell was remarkably productive in introducing many of Roseville's most beautiful and popular designs, allowing the company to continue to operate while many of its competitors went out of business. Patterns introduced from 1930 to 1934 included, among others: Earlam (1930); Sunflower (1930); Ferella (1931); Pinecone (1931); Monticello (1931); Windsor (1931); Falline (1933); Tourmaline (1933); Blackberry (1933); Baneda (1933); Wisteria (1933); Laurel (1934); Luffa (1934); and Topeo (1934).
The Pinecone pattern, first conceived by Frank Ferrell in 1905 when he was still at Weller Pottery, went on to become Roseville's biggest commercial success, helping to save the company from financial failure during the Great Depression. While Roseville continued to operate until 1954 under the artistic direction of Frank Ferrell, most Roseville experts do not consider the production of the 1940s and 1950s, consisting mostly of floral motifs, to be of the same high artistic standard of the earlier production. Company sales declined in the postwar era as inexpensive Japanese imports flooded the American market. Also, consumer tastes had changed, and Roseville's mainstay floral designs started to look old-fashioned as a more modern aesthetic emerged. Nonetheless, the Roseville Pottery Company held on into the 1950s by producing new lines of floral decorated vases, commercial dinnerware and premiums for the A&P Company.
A company named The Kings Fortune of Fishers, Indiana, was granted trademarks by the U. Patent Office for both Roseville and Roseville Pottery. This elegant two-handled vase in the Matte (Mat) Color line is an outstanding example of early Roseville production from the 1910-early 1920s period. This 6 inch vase has a Greek classical form with two small handles and a repeating pattern of vertical incised decoration. This piece is model 608-6 and carries a lovely turquoise glaze.
This particular form is among the hardest to find in this line and is much less common that other models, such as 607-4. As with other Roseville lines during this time period, it carries no signature but does carry its original silver foil label, which is in excellent condition. The dimensions of the piece are a little more than 6 inches high and approximately 3.5 inches wide.
This 100+ year old piece is in excellent original condition, with no significant flaws and only a few small pinholes in the glaze See the photos for more details on condition. This piece is part of a small collection of Roseville pieces produced from 1910 through the 1930s that I have already listed or will list in the coming months. The bulk of my collection is Danish stoneware from the 1920s into the 1970s. The bulk of my Danish collection consists of Arne Bang, Saxbo, Jais Nielsen, Nils Thorsson, Erik Hjorth, and Ejvind Nielsen.
I have done extensive research on these and other artists and workshops and would be happy to share that with interested buyers. I also have substantial collections of American, French, Belgian and other 20th century northern European art pottery.
Most of my American art pottery collection comes from the great 20th century producers from my native state of Ohio, particularly Rookwood and Roseville. Over the coming months I will be listing a wide range of pieces from my collection.
Please check out my other listings and add me to your list of saved sellers to receive notification of new listings. This item is in the category "Pottery & Glass\Decorative Pottery & Glassware\Vases". The seller is "potsandplates" and is located in this country: US. This item can be shipped to United States.
Production Technique: Pottery
Model: Roseville Arts & Crafts Pottery 608-6
Country/Region of Manufacture: United States
Style: Arts & Crafts/Mission Style
Item Height: 6 inches
Backstamp: Paper Label
Product Line: Mat Color
Material: Clay
Theme: Classical
Pattern: Matte
Type: Vase
Antique: No
Color: Turquoise
Vintage: Yes
MPN: Model 608-6
Subject: Classical
Finish: Matte
Origin: Zanesville, Ohio
Brand: Roseville
Production Style: Art Pottery
Original/Licensed Reproduction: Original
Time Period Manufactured: 1900-1919
Era: Early 20th Century (1911-1940)
Original/Reproduction: Vintage Original