Rookwood Arts & Crafts Pottery Cincinnati, Matte Turquoise Two-Handled Urn 1934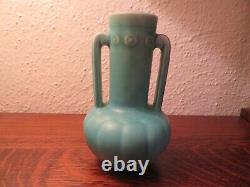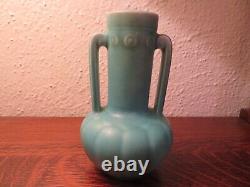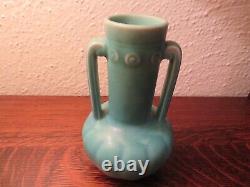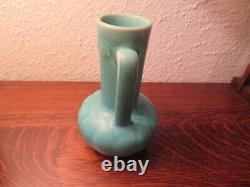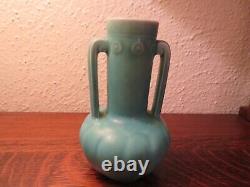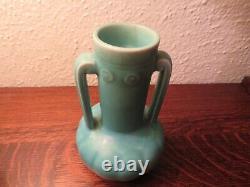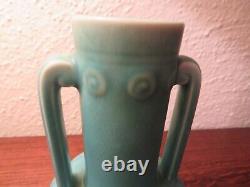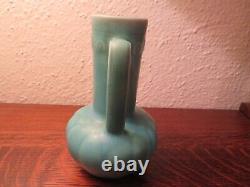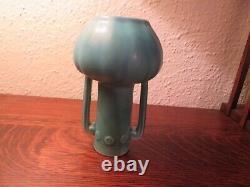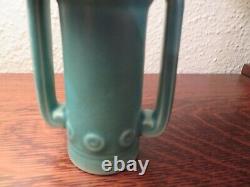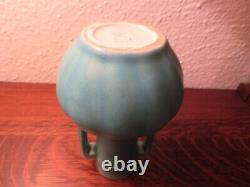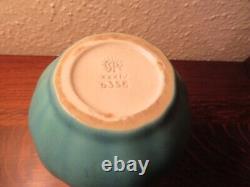 Rookwood Arts & Crafts Pottery: Cincinnati, Matte Turquoise Two-Handled Urn, 1934. Company that was founded in Cincinnati, Ohio in 1880 and nominally operated until 1967. Rookwood was the largest, longest lasting, and arguably the most important of the more than 150 are pottery operations in the United States during the late 19th and early 20. Rookwood's success can only be understood in the context of the time and place of its founding.
The city of Cincinnati was founded in 1788 on the banks of the Ohio River, at a time when that river was the major transportation link between the East Coast and the opening western frontier territories. The original Rookwood factory was located near the river but was relocated to higher ground on Mount Adams in 1891 after experiencing historic floods in 1884.
From a population of just 750 in 1800, Cincinnati had grown to a city of more than 160,000 residents in 1860. By the second half of the 19. Century, Cincinnati had become a leading manufacturing center, hosting the country's largest Industrial Exhibitions beginning in 1870. With the wealth of industry came cultural refinement. Know variously as the "Queen City" and "Athens of the West, " Cincinnati developed into a major regional art center by 1865.
The immediate catalyst for the establishment of Rookwood was the Philadelphia Centennial Exhibition of 1876, in support of which the socially prominent women of the city organized a Women's Centennial Committee. This led to an exhibit in Philadelphia from the Cincinnati School of Design, sponsored by the Women's Centennial Committee, which included decorated ceramic works by Maria Longworth Nichols, the founder of Rookwood Pottery. Given her wealthy upbringing, she was exposed to the.
Fine arts from an early age. In 1968, she married Colonel George Ward Nichols, eighteen years her senior, who had been hired by her family to catalogue their art collection.
In 1873 she took up china decoration under the guidance of Karl Langenbeck, a German ceramic chemist. In 1874, she enrolled in the School of Design, which later became the Art Academy of Cincinnati, and took classes in china painting from Benn Pittman, whose students' work was displayed at the Women's Pavillion at the 1876 Centennial Exhibition in Philadelphia.
In 1880, she convinced her wealthy father to support her in the establishment of her own factory, one of the world's first woman-owned ceramics workshops. From its establishment, Rookwood, which took its name from her father's country estate, attracted media and public attention due its novelty as a woman-owned business and the social prominence of the Longworth family. In the early years, she operated the workshop and an associated school for china decoration with the assistance of Clara Chipman Newton and Laura Anne Fry.
In 1881, the decorating department was formed and Albert Valentien hired as Rookwood's first regular, full-time worker. In that same year, Joseph Bailey left the Hamilton Road Pottery to join Rookwood. For decades to come, Valentien and Bailey played important roles in Rookwood's success. During these early years, Rookwood survived due to the financial generosity of her father, Joseph Longworth, who died in 1883.
Shortly before Joseph Longworth's death, William Watts Taylor was brought into the business as General Manager. In 1885, Maria Longworth Nichols' first husband died, and she remarried to Bellamy Storer in 1886. After returning from an extended trip to Europe in 1887, Maria Longworth Nichols Storer devoted less and less time to decorating china and overseeing Rookwood operations. Gradually, the ownership and leadership of Rookwood was transferred to a new Rookwood Pottery Company, of which William Watts Taylor became President in 1890.
He was to lead Rookwood until his death in 1913. Perhaps inspired by Maria Longworth Nichols' early experience at the 1876 Centennial Exhibition in Philadelphia, Rookwood accorded great importance to participation in national and international exhibitions. In 1889, Rookwood won a First Prize Gold Medal at the Exhibition of American Art Industry in Philadelphia. This recognition was soon overshadowed by Rookwood's stunning Gold Medal at the Exposition Universelle in Paris that same year. Over the coming decades, Rookwood competed in numerous important exhibitions and received many awards.
Perhaps the most prominent was its Grand Prix at the Paris Exhibition of 1900, which was used extensively by Rookwood in its marketing efforts. Throughout its history, the leadership of Rookwood was able to attract and retain talented artists, whose signed work formed the basis of the workshop's international reputation. Some of the most important artists associated with Rookwood were local talent, while others were imported from other world pottery centers.
An example of the former was Albert Valentien, who was born in Cincinnati in 1862 and trained at the Design School of the University of Cincinnati (later the Cincinnati Art Academy). He married another Rookwood artist, Anna Marie Bookprinter in 1887 and led Rookwood's decoration department for 20 years. For Maria Longworth Nichols, Japanese ceramics was a major source of artistic inspiration. He was already an accomplished ceramics decorator painter when he came to the United States.
He first worked in Boston for the Fujiyama. Workshop where he met Maria Longworth Nichols in 1886. He joined Rookwood in 1887 and stayed until his death 60 years later. He produced many masterpieces for Rookwood, including a Grand Prix-winning vase at the 1900 Paris Exhibition Universelle. From Rookwood's inception, women played an important role in the artistic decoration of its ceramics. Of the 33 decorators employed by Rookwood for more than ten years over the period from 1880 to 1913, a majority (19) were women. Notable female Rookwood decorators included Lorinda Epply, Helen McDonald, Sara Sax, Elizabeth Lincoln, Wilhelmine Rehm, Sallie Coyne, Sallie Tooehy, and Elizabeth Barrett. Jensen spent 20 years at Rookwood while also pursuing his career as a painter, which reflects the influence of a number of important early 20. Century European artists, including Picasso, Roualt, and Modigliani.
Jensen's ceramic works have been widely exhibited, starting at the 1939 Golden Gate International Exhibition in San Francisco, and can be found in numerous museums. Other very important male Rookwood artists include William Hentschel, Artus Van Briggle, and Edward Hurley. Van Briggle, who is credited by for developing Rookwood's early mat finish glazes, went on to establish his own pottery in Colorado Springs in 1901, which is known for its Art Nouveau mat-glazed forms. Rookwood management and artists demonstrated awareness of global trends in ceramics and were influenced by a number of other ancient and contemporary traditions, including those emanating from Japan, China, Egypt, Persia, England and France. Maria Longworth's fascination with Japan is well documented, and Kataro Shiryamadani's long tenure at Rookwood provided a living link to Japanese ceramic traditions.
The English Arts and Crafts Movement was also a source of inspiration, both in how Rookwood was organized ("an ideal workshop") and its output. Rookwood's shift from high gloss to mat finish glazes around 1900 is attributed by some to the influence of the dead glazes exhibited by the avant-garde French potters Auguste Delaherche and Ernest Chaplet at the 1893 Colombian Exposition. " Around the same time, Rookwood's transition from darker "standard glaze ware to lighter glazes led to comparisons to Royal Copenhagen, which Rookwood is reported to have seen as one of its few serious competitors. Much later, Rookwood's Danish connection was revived by the arrival in 1928 of Jens Jensen, who had been trained in his native Jutland.
From its early years, Rookwood acquired "inspirational material" from all over the world, a collection that was sadly disposed of in the 1940s during the long financial decline of Rookwood that had begun with the Great Depression. While Rookwood achieved early critical acclaim for its work in the last two decades of the 19.
Century, it is really in the first three decades of the 20. Century that it reached the peak of its success as an artistic and commercial enterprise. By this time, Maria Longworth Nichols no longer played an active role at Rookwood, and leadership was provided first by William Watts Taylor, until his death in 1913, and then Joseph Henry Gest from 1914 to 1934. The other important presence at Rookwood throughout this period was John Dee Wareham, who became President in 1934 after 41 years at Rookwood, starting as a decorator and rising to head of the decorating department and Vice President. Under the artistic leadership of John Wareham, Rookwood continued to develop new shapes and glazes.
By 1914, there were already approximately 2,200 shapes in the art pottery line. Stanley Burt, long-time plant Superintendent, was freed from his day-to-day administrative responsibilities to focus on production and research. Anniversary in 1920, Rookwood was a thriving commercial enterprise, operating 15 large kilns and employing some 200 workers. While Rookwood continued to produce the artist-signed pieces for which had long been known, a transition began to take place around 1914 to larger scale serial production, which became an important backbone to the factory's expansion and profits. During this period, Rookwood also maintained an important line in the production of tiles and architectural and garden ceramics. These developments culminated in the firm realizing its largest sales and profits ever in 1921. While many art historians celebrate Rookwood's artist signed pieces and denigrate its serial production, it is the latter that brought high quality Rookwood pottery into the homes of many Americans.
While the shift to larger-scale serial production was partially driven by market considerations, it also reflected a growing philosophical approach by artists of the time, both in Europe and the United States, to produce beautiful objects for everyday use and make art available to all. In Rookwood's case, the drive to produce lower-cost art pottery wares was also driven in part by the rise of competition, beginning in the 1890s and reaching its peak in the pre-World War II era, from potteries (Owens, Weller, and Roseville) in Zanesville, Ohio. The Zanesville potteries, though frequently dismissed by William Watts Taylor as "imitators and counterfeiters", came to be Rookwood's most formidable competition in the early 20.
Although the Rookwood Pottery Company survived until 1967, it never recovered from the financial shock of the stock market crash of the fall of 1929 and the onset of the Great Depression. When the Depression started, Rookwood was low on cash. The decade of the 1930s at Rookwood was marked by declining sales and growing deficits. Many decorators retired or looked for work elsewhere, and by the end of 1932, work had largely stopped in the decorating room. Maria Longworth Nichols died on April 30, 1932, and Joseph Henry Gest resigned in frustration as President in 1934 and passed away on June 26, 1935. John Dee Wareham took over as President in 1935, a year in which there was little production. Things continued in much the same manner until the outbreak of World War II in Europe in 1939, after which Rookwood was forced to declare bankruptcy in 1941. Although numerous attempts were made to reorganize Rookwood in the years to come and return it to its former glory, all such efforts were short-lived and ultimately proved unsuccessful. The ownership of Rookwood ultimately came to the Herschede Hall Clock Company, which transferred Rookwood's operations to Starkville, Mississippi in 1960.
Production there was gradually curtailed until, by 1966, the pottery was operated only on an occasional basis. Operations at Rookwood were suspended in 1967, bring the company's 87 year life to an ignominious end. The classic form of this. Rookwood vase, with a rounded lobed base and elongated mouth, features a band of spiral relief decoration around the mouth and a soft turquoise blue matte glaze.
The vase, reminiscent of a Grecian urn form with two elongated handles, is Rookwood Model 6356. In my 30 years of collecting, I have not found another example of this form and glaze, so I believe it to be relatively rare. This vase is well-marked with the impressed Rookwood shopmark and the year of production (1934). Below the production year is the incised number 6356, which refers to a model/shape number.
The dimensions of the piece are nearly 6.5 inches high, 4 inches at its widest point, and less than 2 inches across the mouth. This piece is in excellent original condition with no significant flaws. Please see photos for additional details on the condition of this vase. This piece is part of a small collection of Rookwood pieces of this era in this and other blue glazes that I currently have listed.
The bulk of my collection is Danish stoneware from the 1920s into the 1970s. The bulk of my Danish collection consists of Arne Bang, Saxbo, Jais Nielsen, Nils Thorsson, Erik Hjorth, and Ejvind Nielsen. I have done extensive research on these and other artists and workshops and would be happy to share that with interested buyers. I also have substantial collections of American, French, Belgian and other 20th century northern European art pottery.
Most of my American art pottery collection comes from the great 20th century producers from my native state of Ohio, particularly Rookwood and Roseville. Over the coming months I will be listing a wide range of pieces from my collection. Please check out my other listings and add me to your list of saved sellers to receive notification of new listings. This item is in the category "Pottery & Glass\Decorative Pottery & Glassware\Vases".
The seller is "potsandplates" and is located in this country: US. This item can be shipped to United States.
Features: Raised Spiral Decoration
MPN: Model 6356
Pattern: Two-Handled Urn
Time Period Manufactured: 1930-1939
Production Technique: Pottery
Item Height: 6.5 inches
Subject: Design
Vintage: Yes
Era: Early 20th Century (1911-1940)
Country/Region of Manufacture: United States
Origin: Cincinnati, Ohio
Material: Ceramic
Year Manufactured: 1934
Model: Two-Handled Urn
Finish: Matte
Production Style: Art Pottery
Brand: Rookwood
Style: Arts & Crafts/Mission Style
Antique: No
Color: Turquoise Blue
Original/Licensed Reproduction: Original
Backstamp: Incised
Theme: Grecian Urn
Type: Vase
Original/Reproduction: Vintage Original