Peters & Reed Antique c1900 American Art Pottery Arts & Crafts DragonFly Bowl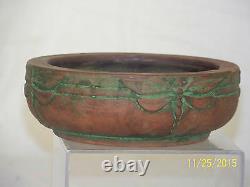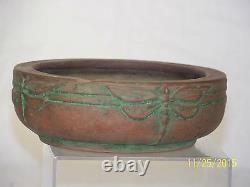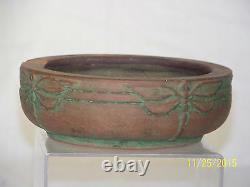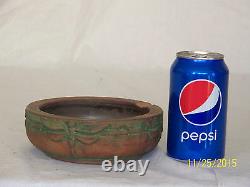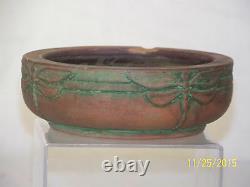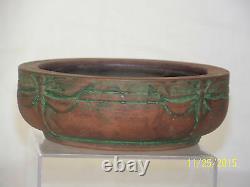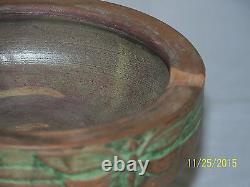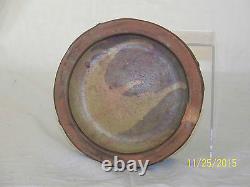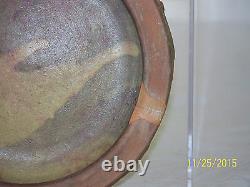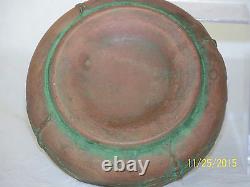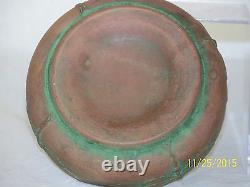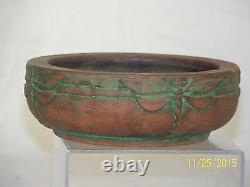 Peters & Reed Antique c1900 American Art Pottery DragonFly Bowl Arts & Crafts Era. The rim has a glaze flake chip. Bowl carved on sides of DragonFlies. A History of the Peters and Reed Pottery Company.
For a company which maintained such a high profile in American art pottery, and produced such a large body of work, the history of Peters & Reed is rather vague and filled with misconceptions. John Peters and Adam Reed began manufacturing pottery in either 1897 or 1898 in Zanesville, Ohio. They used red clay for their pottery, which was abundant in south Zanesville. The company incorporated in 1901, and even had a display at the St. Louis World's Fair that year.
They produced almost exclusively flowerpots and jardinieres until 1903. From 1903 until 1906 their production focused on cooking ware such as kettles, although hanging baskets and jardinieres were still produced in limited quantities. Frank Ferrel came to Peters & Reed sometime between 1906 and 1907, bringing with him experience from working at both Weller Pottery and Owens.
He created the first successful art line for the company, the popular'Moss Aztec' line. Many pieces of Moss Aztec can still be found with his name or initials impressed, a rare practice in potteries of the time.
Frank left Peters & Reed for Roseville Pottery in 1918. The company, now flush with cash and sales pursued new lines, such as Pereco, Landsun, Persian, Montene, and Chromal. Moss Aztec was a matt glaze, with a deep reddish-brown base with green deposits, almost reminiscent of a piece of copper or bronze left to the elements.
The designs are deeply carved, with themes ranging from floral designs, to vestal virgins, or even dragonflies. The Pereco line borrowed many shapes from the Moss Aztec line, but had a glaze described as "semi-matt". It was produced in three colors, green, orange, and blue. The glaze was applied thinly to allow the underlying colors to bleed through at the high points. With the creation of the Landsun line, Peters and Reed experimented with the pottery as a canvas for artistic work.
The pieces often displayed an impressionist landscape, in colors of green, brown, yellow, and blue. The colors are softly blended, giving a surreal look that often would give just the feeling of a landscape, and at other times it is quite defined with trees, pathways, hills, or fences. As a rule, the company did not mark their pottery with any logo or impressed mark, so it can sometimes be difficult to determine if they were the company which manufactured it. Many of their catalogs have survived and can be great guides for identification. Especially helpful are shape numbers often written on the base with pencil under the glaze. With the retirement of one of the founders, the name of the company was changed in 1921 to the Zane Pottery Company. Adam Reed retired in 1922, and died later that year, leaving Harry McCelland the sole owner. Zane pottery is often marked with a die-impressed logo bearing the company name, which makes it much easier to identify to the novice collector.
During that period of changing ownership, the company made agreements with George Brush of the McCoy pottery company, and used them to distribute the pottery made by their plants. McCoy advertisements from that period can be found listing Landsun, Montene, and even Chromal pieces. Zane Pottery continued producing pottery under Harry McCelland until his death in 1931. His wife continued in his place for 10 years. Gondor did not reproduce any Zane lines, but instead focused on their own new designs.
Gondor pottery is always marked clearly on the base with the word "Gondor" in cursive. While their shapes were interesting they failed to produce a line that could capture the attention of the public. Gondor closed its doors forever in 1957, ending the legacy of Peters & Reed.
However, their pottery still generates great collector interest, especially nice examples of the Arts and Crafts styles pioneered by the company. As the years go by, it appears that the Peters and Reed art pottery lines will only increase in value. (Article from Peters and Reed Company site). The item "Peters & Reed Antique c1900 American Art Pottery Arts & Crafts DragonFly Bowl" is in sale since Tuesday, August 11, 2020. This item is in the category "Antiques\Furniture\Other Antique Furniture".
The seller is "1kul57" and is located in Laurel, Maryland. This item can be shipped worldwide.
Style: Arts & Crafts/Mission Style
Brand: Peters & Reed
Sub-Style: American
Material: Bowl
Original/Reproduction: Original
Type: Bowl
Color: Brown/Green