Peter Pugger VPM-30 Vacuum Clay Pottery Art Mixer Potters Pug Mill 1ph 240V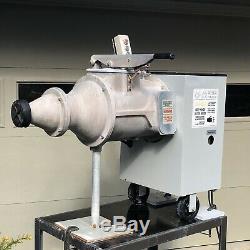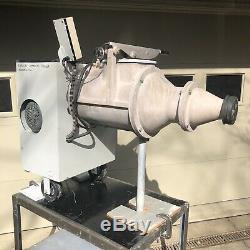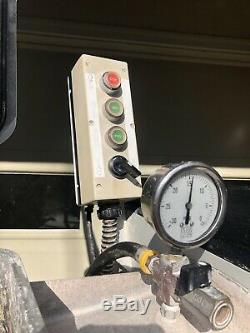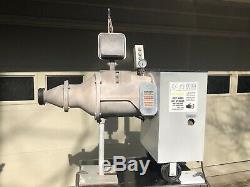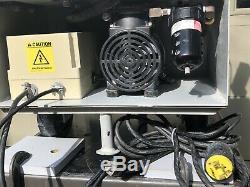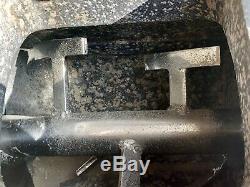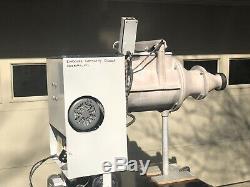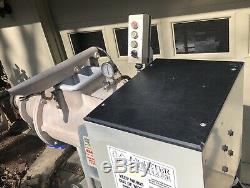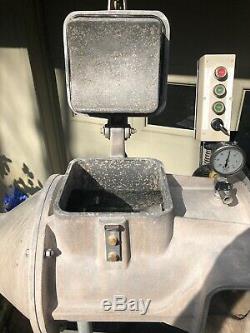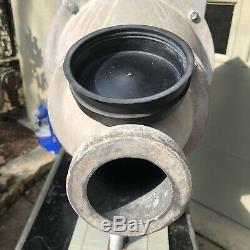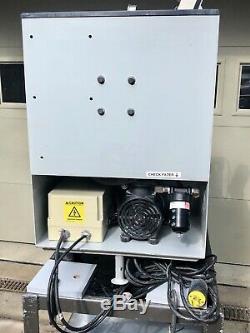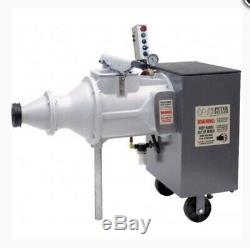 Peter Pugger VPM-30 Clay Pottery Pugmill Pug Mill 1ph 240V. University owned and cared for. Wow, this Peter Pugger is in beautiful, used condition.
It was just retired last week from a university ceramics studio. It has been well cared for.
This pug mill has been carefully inspected, cleaned and tested. From its inception in 1984, the VPM-30 caught the attention of the industry as the first and only Vacuum Deairing Mixing Pugmill of its kind. Since that time, Peter Pugger has incorporated several advancements into our extended line of Vacuum Dearing Mixing Pugmills. We are proud to announce the newly renovated VPM-30 with its chainless, maintenance free geardrive system, state-of-the-art VFD technology, updated vacuum chamber and robust auger design that embellishes the quality and performance that customers around the world have come to expect. Maximum Batch Capacity: 85 pounds.
Dimensions: 46L x 24W x 33H. Weight: Aluminum Version 410 lbs. Hopper Door Size: 8 x 8. Electrical: 1.5 HP 1-phase, 16 amps at 120 volts, 8 amps at 240V. Vacuum Pump: 1/2 HP, 3 amps at 120 volts, 2 amps at 240V.
Stainless Steel: Shaft, augers and paddles of stainless steel, along with an aluminum mixing/pugging chamber ensures rust-free clay processing. Large Hopper: The oversized hopper door allows for easy loading of up to 85 lbs. Batch Mixing Capability: Full batch mixing and blending capability allows for moisture adjustment before pugging. Pugmill Output: Switch to PUG after a batch is completely mixed, and the Power Wedger unloads itself in the form of 3 diameter deaired logs. Vacuum Deaired: Each batch can be deaired by starting the vacuum pump during the last stage of mixing, leaving an air-free product when pugged out (no need to run the clay through the pugmill multiple times).
Once the entire batch of clay has been deaired, switch the pugmill to PUG, and press start. Any remaining deaired clay in the machine can be stored for later use without having to remix or deair. Our patented vacuum design allows us to deair the entire batch of clay without the use of cumbersome vacuum/shredding screens, or down time due to a clogged pugmill! No other mixing pugmill on the market matches the Peter Puggers effectiveness at deairing clay.
Sealed Chamber: Here in our Northern California Factory, each pugmill casting has precision CNC machined o-ring grooves incorporated into them which allows the pugmill to effectively store moist clay indefinitely! No other pugmill on the market provides this level of precision when it comes to properly sealing all pugmill surfaces.
Intellectual Mixing Technology: Real-time monitoring of clay consistency can be accomplished while mixing. Similar to an automatic transmission, the Pugger-Mixer can automatically speed up or slow down based on the hardness of the clay being processed. The operator can also control the speed by controlling the variable speed knob.
Patented Vacuum Chamber: The Patented Vacuum Chamber serves as a separation chamber between the processing chamber (where clay is mixed and pugged) and the gear drive system. In the event the pugmill is overfilled, the excess clay is collected in the vacuum chamber where it can be easily accessed and redirected back into the processing chamber in time for the next batch (if necesary). The Vacuum Chamber door is designed to disengage before excess clay can generate enough pressure to damage the gear drive system. This is a key design feature for mixing pugmills where clay is being forced up against the rear of the processing chamber during the mixing cycle. Peter Pugger is the only mixing pugmill to provide extra protection against vacuum and bearing seal exposure resulting in maintenance free operation.
Variable Speed Control: This allows the operator the ability to speed up or slow down the pugmill. This is especially useful when extruding through dies. Because of the back pressure generated by a large amount of clay being forced through a small orifice, the speed control allows the operator to slow the pugging as required. In turn, perfect deaired configurations are easily extruded through the Pugger-Mixer. There are additional advantages if you are a single potter studio. The ability to slow the pugging allows for time to place pugged clay into containers or bags. On Wheels: The VPM-30 comes with 6 diameter wheels. It is easily transported for cleaning and storage. Work Surface: The motor and drive are enclosed for protection, cleanliness and safety. A 14 x 20 cleanable work surface is provided on top for convenience of the operator while loading. The item "Peter Pugger VPM-30 Vacuum Clay Pottery Art Mixer Potters Pug Mill 1ph 240V" is in sale since Thursday, February 7, 2019.
This item is in the category "Crafts\Sculpting, Molding & Ceramics\Ceramics & Pottery\Other Ceramics & Pottery". The seller is "ncbarnfinds" and is located in Chapel Hill, North Carolina. This item can't be shipped, the buyer must pick up the item.
Brand: Peter Pugger
MPN: Does Not Apply