John Mankameyer Manka Crystalline Glaze Studio Pottery Bowl Arts Craft Porcelain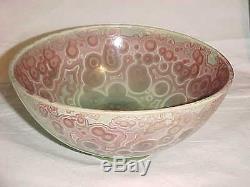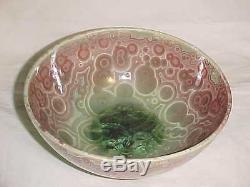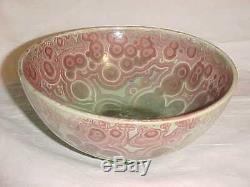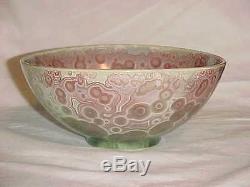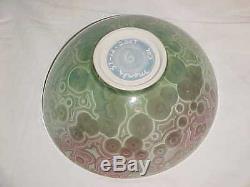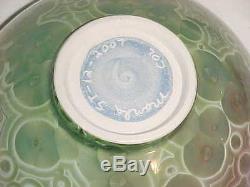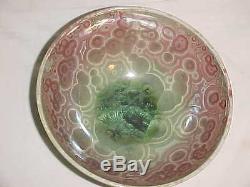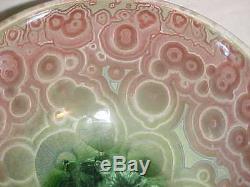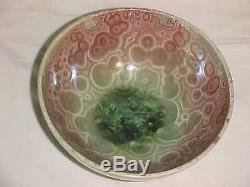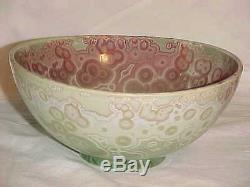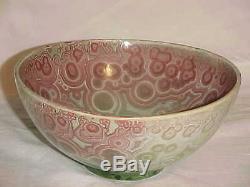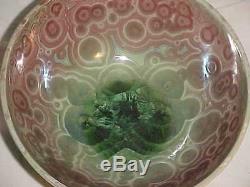 HERES AN EXPERIMENTAL REDTO-GREEN-TO-SILVERY-GREEN-ON-GREEN CRYSTALLINE GLAZE STUDIO ART PORCELAIN BOWL BY CALIFORNIA AND MONTANA ARTIST JOHN MANKAMEYER (BETTER KNOWN AS MANKA)! The following crystalline glazed porcelain bowl has come directly from the estate of the artist John Mankameyer, who died on July 31, 2015, in Billings, Montana. Measuring a little over three inches (3") in height, six and five eighths inches (6 5/8) across the top from short side to short side, seven inches (7") across the top from long side to long side, by two and three eighths inches (2 3/8) across the base, and made of hand-thrown porcelain, this beautiful example of Manka pottery is essentially in perfect condition (see condition report below) and is dated 2007. This outstanding Manka porcelain bowl displays an experimental combination red crystals that transition to green crystals that transition to silvery-green crystals set against a lighter green background glaze!
The bowl has an incised signature Manka ST-12-2007 COL. Condition: Again, this beautiful example of Manka porcelain is essentially in perfect condition with one small air bubble in the thick pooled glaze on the bowl's interior bottom, and the bowl is oblong rather than round (but both of these factors are original to the bowl)! Please scroll down to read the biography about John Mankameyer.
A native to Miles City, John was born November 12, 1933, the second and last child to William C. Johns sister Joyce was born in 1930. His parents moved to Arvada, Wyoming, where John lived until the age of seven when his parents separated. He spent the next part of childhood living in different places with his mother, which included Spearfish, South Dakota, Mineral, Washington, Tacoma, Washington, and finally Eugene, Oregon where he graduated from high school in 1952. John then attended junior college in Eugene until he joined the United States Air Force at the beginning of 1955.
He was stationed in Turkey and Italy during the early part of the Vietnam War conflict where he was a communications technician and radio operator. He received his honorable discharge in 1963. After his discharge John moved to San Francisco where he worked at various technical jobs for about one year before moving back to Miles City. With his training in electronics during the war, he decided to open a television and radio repair shop just off of downtowns Main Street.
However, a side interest at that time was collecting Montana Agate, which he then made into jewelry. Within a few years this became his full-time business known as Johns Agate Shop. Johns interest in making jewelry continued the rest of his life. Following the dissolution of his one and only short-lived and childless marriage during the early 1970s, John found the true passion of his life clay!
From 1975 to 2015, John lived and breathed pottery, or more specifically the art of making Crystalline Glazes on Porcelain. In fact, he obtained a national reputation for his accomplishments with crystalline glazes and sophisticated ceramic forms.
And because he signed his pottery with the moniker of Manka (short for Mankameyer), John became known within the ceramic field by this nickname. Numerous museums have acquired his work for their permanent collections, including the Everson Museum of Art, Minneapolis Institute of Arts, and the Oakland Museum of California.
And John is credited with being one of the primary artists who helped to revive the interest among potters and collectors alike in crystalline glazes during the late 1970s well into the 1990s. Today, John is considered an iconic figure for this type of ceramic art. In the year 2000, at age 67, John moved back to Miles City, Montana, where he entered a semi-retirement phase. He essentially began experimenting for the sake of experimenting, keeping meticulous records of each new crystalline glaze.
One of the more fascinating of his accomplishments during this later period was a crystal that mimicked the appearance of a Montana moss agate quite a visually stunning glaze. Between 2004 and 2010 his pottery activities nearly ceased altogether. Ill health kept him from undertaking the labor-intensive activity of throwing new forms (all of his pottery is hand thrown) as well as the concentrated effort of firing his kilns.
Heart surgery, which fortunately went very well, gave him renewed strength to return to what he loved for the last five years of his life -- creating the art of crystalline glazes which he continued to create up until the time of his death. Many unfinished examples are still sitting in his studio. LASTLY, SHOULD THE WORD "EAMES" BE USED IN THE SEARCH TITLE, IT IS THERE FOR THE PURPOSE OF REFERENCING THE MID-CENTURY TIME PERIOD OF THE 1940S THROUGH THE 1970S. 14 THIS ITEM IS BEING OFFERED BY DESIGN REFERENCES -- ESTABLISHED BY A FORMER ART MUSEUM CURATOR TURNED BOOKSELLER SPECIALIZING in OUT-OF-PRINT and PERIOD MATERIALS on the PROGRESSIVE IDEAS of MODERNISM and POST-MODERNISM in DECORATIVE ARTS and ARCHITECTURE, INDUSTRIAL and STUDIO ARTS of the 19TH & 20TH CENTURIES.
15 PLEASE -- NO REQUESTS FOR PHOTOCOPIES OF THIS ITEM. I DO NOT MAKE PHOTOCOPIES UNDER ANY CIRCUMSTANCES. 16 AGAIN, COMMUNICATION IS KEY! 17 LASTLY -- WHEN OBSTACLES AND PROBLEMS LOOM LARGE AND YOU SEEM TO BE AT A STAND STILL, REMEMBER THAT EVEN A FALTERING STEP FORWARD IS BETTER THAN NO STEP AT ALL. The item "JOHN MANKAMEYER MANKA CRYSTALLINE GLAZE STUDIO POTTERY BOWL ARTS CRAFT PORCELAIN" is in sale since Friday, November 30, 2018. This item is in the category "Pottery & Glass\Pottery & China\Art Pottery\Studio/ Handcrafted Pottery". The seller is "singeldad" and is located in Scottsdale, Arizona. This item can be shipped to United States.
Artist: John "Manka" Mankameyer (1933-2015)
Art Medium: Crystalline Glazed Porcelain
Date: 2007
Provenance: Estate of John "Manka" Mankameyer