Chinese Flambé Crystalline Glaze Ceramic Mordern Art Pottery Vases Collectibles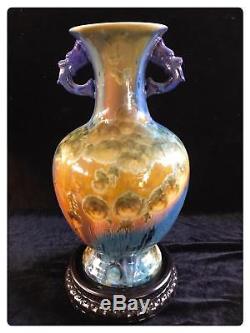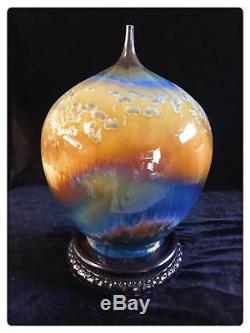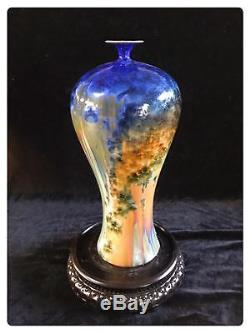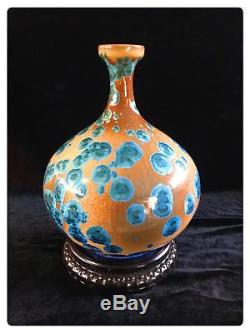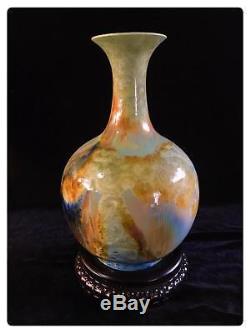 We are proudly to present the finest products on crystallized. Hui Chak Wing Chinese name. Glazes featuring elegant crystallized surface on the perfect shape of glaze, which stands out from other modern artworks. His artworks was described as innovative among numerous competitions and collectors, which was also admired by many celebrities including Miss Irina Georgieva Bokova and Mr. Glaze, we would be pleased to offer you not only the Flamb. Hui Chak Wing's museum. These masterpieces are highly collectible and valuable which you are unlikely to find such beautiful and unique work in such a low price. Please do feel free to message me if you have further need or business proposal on our Flamb. Mr Hui Chak Wing specialized in Flamb. Glaze which is currently the Chairman of Crafts and Ceramics Committee in his hometown Teochew, also own a museum displaying his unique and innovative artworks. Not only displaying in his own museum, some of his artworks also displaying in provincial museums such as National Museum of China, Guangdong Museum... Glaze Museum Mr Hui was also invited to more than 50 National and Provincial competitions in recent years and proudly awarded for 40+ prizes including 17 National and Provincial gold medals since 2015. Besides competitions, Mr Hui also held three personal artwork shows in different national museums showing his masterpieces to the public. One of the masterpiece displayed in Mr. Hui's artwork show captured in China news. Glaze artworks are quite unique and rare among the ceramics collecting history, especially fine crystallize glazes. The main reason behind would be the cost of making the perfect one would be tremendously high. There once had a Chinese saying describling the art of Flamb. Glaze: " Ten Kiln left only one "; meaning that only one out of ten glazes putting into the kiln could be crafted successfully and not even mentioned if it is in a good shape and well-distributed crystallization.
Hui had been creating numerous masterpieces for a decade. In his career, Mr Hui is honorable that Miss Irina Georgieva Bokova (former Director-General of UNESCO and Bulgarian politician) appreciated his artworks and taken home with one of Mr. Hui's finest crystallize glaze. Miss Irina Georgieva Bokova and Mr.
Hui on the Exhibition on Dec 2018. Among the career of crafting flambe glaze, Mr. Hui is also glad that 2 of his own ceramic crystallize glazes were selected by the Chinese government to displayed inside the National Art Exhibition. The Exhibition only select 200 elite artpieces among the whole country and only the best of the best had the prevalence to display inside the exhibition. The more happiest things would be 1 of his 2 selected glazes was sent as a gift to Mr.
Bounnhang Vorachith (General Secretary AND President of Lao People's Democratic Republic). Glaze (right side) and Mr. The item "Chinese Flambé Crystalline Glaze Ceramic Mordern Art Pottery Vases Collectibles" is in sale since Thursday, January 3, 2019. This item is in the category "Crafts\Sculpting, Moulding & Ceramics\Ceramics & Pottery\Other Ceramics & Pottery".
The seller is "huntszhon-0" and is located in Hong Kong. This item can be shipped worldwide.
Mr Hui Chak Wing: Ceramics, 2018